Did you know that hearts have strings? Every day, you are either tying those strings from your child's heart to your or cutting them. Most days, you are probably doing both. Having those heart-strings tied close to yours is what enables your child to receive your correction and discipline. It makes them want to please you. I first read this concept in the book
To Train Up A Child
(I know it's a controvertial book for many people, but I think anyone could learn from Michael Pearl on this point).
We had some heart-strings that needed re-tying this past weekend, so I took my oldest daughter on a trip to Chuck E Cheese. Just her and me, no siblings. I didn't try to talk to her about her problem areas. I didn't lecture her. I just wanted her to have fun and to associate that fun with being with Mama. Guess what? We've had a great week at school so far this week. She has focused better and had a better attitude. I'm not saying it's a magic formula. I'm just saying, if you are having problems with a particular child in your household, look to their heart-strings.
Along those lines, I loved this post today from
Inspired to Action
.
How do you keep your children's heartstrings tied to yours?
This post is linked up at
housefullofbookworms.com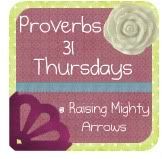 >